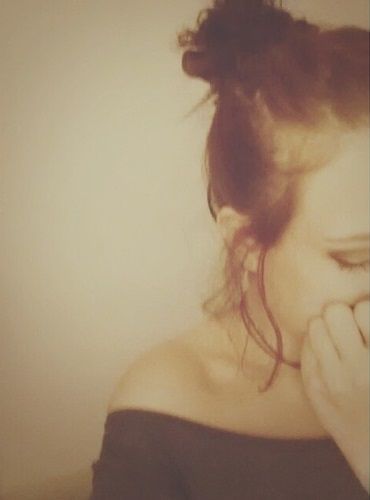 I don't do that, Harley. I don't save people.
I'm poison, remember?
♍☉ / ♓☽ / ♉
The good Lord was creating a model for military wives and was into his sixth day of overtime when an angel appeared. She said, "Lord, you seem to be having a lot of trouble with this one. What's wrong with the standard model?"
The Lord replied, "Have you seen the spec on this order?" She has to be completely independent, posses the qualities of both father and mother, be a perfect hostess to four or forty with an hour's notice, run on black coffee, handle every emergency imaginable without a manual, be able to carry on cheerfully, even if she is pregnant and has the flu. She must be willing to move to a new location ten times in seventeen years. And oh, yes, she must have six pairs of hands."
The angel shook her head, "Six pairs of hands? no way."
The Lord continued, "Don't worry, we will make other military wives to help her. And we will give her an unusually strong heart so it can swell with pride in her husband's achievements, sustain the pain of separations, beat soundly when it is overworked and tired, and be large enough to say "I understand" when she doesn't, and say "I love you" regardless.
"Lord," said the angel, touching his arm gently, "Go to bed and get some rest. You can finish tomorrow."
"I can't stop now," the Lord said, "I am so close to creating something unique. Already this model heals herself when she is sick, can put up six unexpected guests for the weekend, wave goodbye to her husband from a pier, a runway, or a depot, and understand why it's important that he leave."
The angel circled the model of the military wife, looked at it closely and sighed. "It looks fine, but it's so soft."
"She might look soft," replied the Lord, "but she has the strength of a lion. You would not believe what she can endure."
Finally, the angel bent over and ran her fingers across the cheek of the Lord's creation. "There's a leak," She announced. "Something is wrong with the construction. I am not surprised that it has cracked. You are trying to put too much into this model."
The Lord appeared offended at the angel's lack of confidence. "What you see is not a leak," he said. "It's a tear."
"A tear? What is it there for?" asked the angel.
The Lord replied, "It's for joy, sadness, pain, disappointment, loneliness, pride, and dedication to all the values that she and her husband hold dear."
"You are a genius!" exclaimed the angel. The Lord looked puzzled and replied. "I didn't put it there."
I'll spare you and wrap it nicely in a cut with a bow. :)
A little update -

Officially moved to VA Beach about a month ago. Haven't had internet until Thursday. The picture updates have been coming from my phone, so sorry for the random teases of my life or whatever.
I'm happy as shit, for the most part. A few things here and there that make me want to beat my head up against a wall, but nothing too substantial. Heh…
Wonderful new apartment is finally ours. Hardly any furniture just yet. We are lacking a couch and well.. basically anything to go into the living room (IE couch, chair, TV, etc.), but for the two weeks we've had our own place it's coming along quite nicely. Slowly, but nicely.
My 24th birthday is a little over two weeks. Might see if I can't splurge and fall into yet again the Hell that is Apple products and get an iPod touch. Mostly for the simple fact that a) listening to music on my phone drains my battery and b) all the photography goodies and apps that Apple has that Android has yet to fully embrace. And yes, I mean Instagram. And yes, I'm a self-proclaimed hipster.
Uh…yeah. That's about it. I'm here in VA. I'm settled. I'm happy. And tomorrow is Kristopher and I's 8-Month wedding monument. Give us shit. Like… y'know… anything, really.
I miss my friends back home, definitely. I wish I had things of them all that I could've brought with me. Thinking about propositioning them to take a small piece of canvas or something and painting something for me. That way I can stitch it all together and make one big picture and hang it on my wall proudly. We'll see. I know I lot of busy (read: lazy) sons of bitches. Heh.
Well, that's it! I hope all is well with everyone! I have a pretty busy schedule of being a freakin' housewife. So, I won't be on here QUITE as much as I use to be. But, I'll be around. <3
………..So. Much. Laundry.
I guess I'm pretty annoyed right now by people I know on here acting like and even claiming they're military SOs.

If. You. Did. Not. Know. Your. Boyfriend (or whatever). While. He. Was. In. Uniform. You. Are. Not. A. Military. Spouse. You cannot relate to this. Don't post things all over the 'net about how hard it is and blahblahblah and how girls they know talk about being apart from their boyfriends for three days and it's no comparison. You have no clue yourself. We appreciate the support, but we do not appreciate impersonators.

Fucking ugh. Since when was not getting laid EVER, staying up all night worrying, and crying yourself to sleep so fucking glamorous? It's really not. It's offensive that you're taking the title of "Military Spouse" without actually having to go through the shit we do it.

Whatever. I'm going to watch some Old School Degrassi, be sick and clutch to my phone… hoping I don't fall asleep and miss a call from my husband who is actually a part of this war and risking his life. Whatevaah.
Song: Coming Home to Me
Artist: Patty Griffin & Julie Miller
Album: Downtown Church
Played 20 times
Patty Griffin & Julie Miller - "Coming Home to Me"

"It's a world full of bar rooms and alleys,
Of blue nights and red river valleys.
When you feel like a shirt and a tie,
Or like dirt,
Or a lion and no one can see:

You're coming home to me, just remember,
You're coming home to me."
I went to Sam's Club and bought stock in Ramen Noodles and Ravioli. He told me to get him a couple packages of both, but it was waaaay cheaper to buy a 24-pack of Ramen and a 10-pack of Ravioli. So, if it's too much, he can share. But, it should last him a while. I'm planning on getting him some beef jerky that he loves so much. And some of those one-serving juice powders to put in his water bottle.

I've also got a little letter written for him.
I plan on printing out a few pictures of like my new piercing and stuff and sticking it in there.
I'm also going to buy a cheap little MP3 player and headphones and put a little love playlist on it. Just something silly. I don't know.
I just miss him so much. It's ridiculous.
I want to do little thing like this to ensure he doesn't forget about me or find someone to take care of him while he's on the ship. I want him to know that even though I'm on the other side of the world, I can still take care of him and that I love him more than anything in the world.
I'm ridiculous.
If you're currently following me, please like this post.
I'm planning to make a lot of revisions to my tumblr theme and I want to add a page with a list of all you wonderful ladies!
It sounds silly and incredibly lazy of me to ask you to do this, but it's easier for you guys to like this as opposed to me going through ALL my following and followers trying to find you. :)
With that being said, the main reason why I'm doing this is so I have a list of you guys so I can quickly find your blogs and catch up with you. I really wish Tumblr has a grouping mechanism so we can filter through posts by specific people on our dash, but alas it does not. So, time to go about this the old fashioned way. :)
It'd REEEEEALLY helpful if you did this for me!

Love you all and keep strong, <3